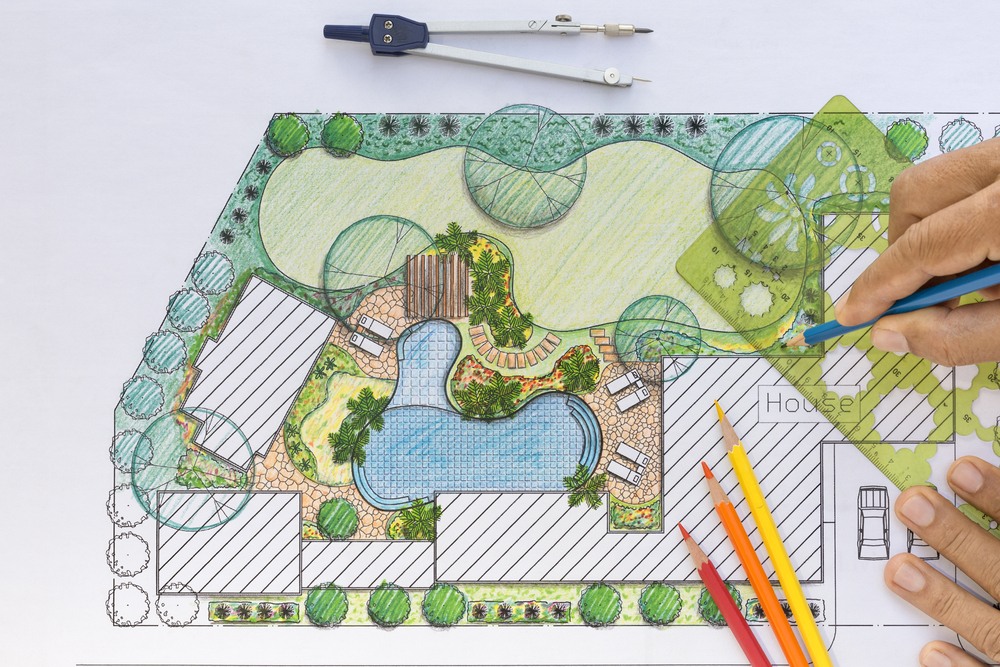 The honest truth is, most landscaping techniques are quite easy and straightforward enough that if you put your mind to it, you can create beautiful well thought out landscaping work. Aside from the physical labor, of course, all you need is a basic, fundamental understanding of various landscaping principles and techniques.
Ready to get started on a creative and aesthetically pleasing landscape design? Take a look at this quick strategy guide and before you know it, you'll be ready to create a beautiful yard that your client will love!
Choose a Focal Point
Before you get too ahead of yourself, you'll want to decide on a right place to start. The focal point of the lawn you are working on is the number one component of your landscape plan. You will plan everything else around this focal point.
What is a Focal Point?
A focal point is the place you want to generate the most attraction and interest to from anyone who passes by or arrives at the home. Depending on the size of the area you're working with, the focal point may already be quite obvious, or maybe your client wants to work with multiple focal points. Whichever the case may be, focal point(s) should seem like natural elements in the landscape and it should be relatively easy to incorporate the rest of the ideas around.
The most straightforward method for choosing a focal point is selecting something that provides a sense of contrast to the rest of the landscape. Whether the focal point is a different color, shape, size, or texture from the rest of the lawn (which we will get into shortly), it should provide the landscape with an intriguing vantage point.
Examples of Focal Points:
Large rocks
Pine trees
Large coniferous trees
Tall grasses
Fire pit areas
Patio areas
Group Your Landscaping
Okay, so you and your client have decided on a focal point. Now, what? The next step for you is to group the rest of your design. In other words, 'grouping' is the way in which you provide your landscape with a sense of organization.
How to Group Your Landscaping
Maybe you've decided to establish a large pine tree as the focal point in your lawn. You may want to consider surrounding that tree with an even number of smaller, slow-growing coniferous trees to complement the larger tree or even a small offsetting swing (be sure to choose trees that are appropriate for your planting zone and region). Once you have the initial grounding point, the rest of the landscape design should start to feel a bit easier to visualize. Remember that you want to have related objects in an area and it is essential to group objects in a natural pattern. You don't want to space things out too evenly or in perfect geometric shapes; mimicking nature's natural way of spacing is the best way to highlight the garden or lawn effortlessly.
Color, Proportion, Scale, and Texture
As we previously mentioned, color, proportion, scale, and texture are the essential elements that tie the entire landscape design together.
Color
Color can often be used as a design tool to assist in the incorporation of different landscaping aesthetics. If you're starting out in landscaping, you may find it easier to use more light colors than dark colors in your lawn as brighter colors tend to attract more eyes.
Scale and Proportion
In regards to scale and proportion, when considering different features in your landscape design, it is essential to take a step back and view the landscape design as a whole. Each element should match or compliment the size of surrounding pieces. If you have trouble with choosing a particular piece, first ask yourself, "Is this a distraction?" You don't want the lawn to look boring, but you also don't want to go overboard.
Texture
Last, but certainly not least, when planning texture in your landscape, consider what type of plants you want to use and how they may affect the other features in your design. Be sure to choose plants that thrive in the your specific area. Texture can create contrast, but it can also be a complementary principle in your design and should be used to provide a sense of balance and symmetry in your landscape.
Keep Trends in Mind
With any type of design, indoors or outdoors, you have to keep up with current trends. Knowing what is popular and what looks clients want will make consultations a million times easier. A few huge trends right now include sustainable landscaping, landscaping for smaller areas, and easy landscaping solutions (stone work, low maintenance plants etc). Taking a look at trends a couple times a year will put you leagues ahead of your competition.
Safety is a Top Priority
We would be remiss not to include the utmost importance of safety when it comes to landscaping techniques. You may find yourself using new awkward tools and machinery so be sure to ask for assistance if you feel you might need it. Always follow the corresponding safety procedures. Communication will still be one of the best ways you can avoid any potential injuries in your working environment.
Starting off with a new landscaping design is fun so you should never get too bent out of shape if things don't go exactly how you planned them. Nature will always take its course in the long run, the best thing you can do as a landscaper is to create an outline, plant the seeds, and enjoy the fruits of your labor.
Contact a local landscaping professional in your city today!