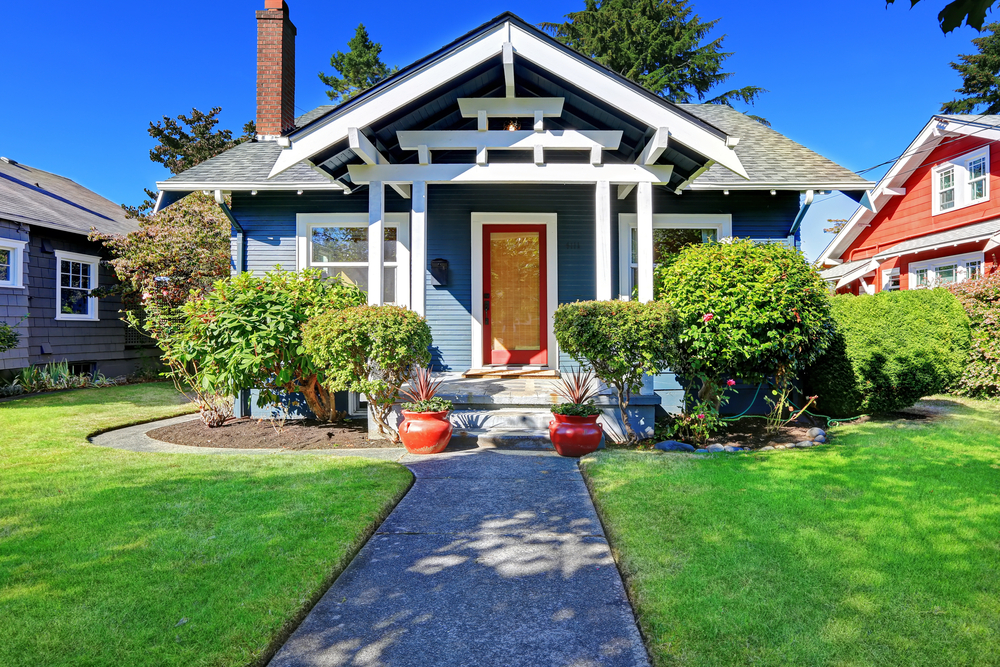 Spring is right around the corner and before we know it, our outdoor spaces will be primed and ready for some long-awaited renovation and landscaping investment. Like the rest of us, you're eager to get the most out of your outdoor space this year. Maybe you're hoping to sell your home in the near future or maybe you want this year to be the year you finally create the oasis you've always wanted. Whatever the reason may be, now is the time to start thinking about the bigger picture. That's right, it's time to add some curb appeal.
Investing in your outdoor property is proving to be financially rewarding. Most homeowners spend anywhere between $1,500 and $3,000 on average per landscaping project and the majority of those homeowners made a good portion of their money back. Let's take a look at a few ways you can wisely spend some of that money and not only make your lawn more inviting, but also financially rewarding.
Cover Unwanted Ground to Beautify your Yard

One of the most overlooked pieces of a homeowner's property is right beneath their feet. Any bare ground space on your lawn can detract from the overall curb appeal of your property. The good news is, there are a number of ways you can go about fixing this that are both affordable and attractive.
3 ways to cover unwanted ground space
Covering up any unwanted ground space with recycled stones in a mosaic or systematic pattern can help you achieve a beautiful look in your lawn. Any seams between the stones can be filled with moss to give it more of a finished look or you can also choose a less expensive option with gravel in an assortment of colors.
You might also find solace in a "planted" look by purchasing an inexpensive and easy to maintain option such as thyme. Adding a layer of mulch can also help you save money over time as it helps the soil retain moisture and cuts down on potential weeds, as well. Oh, and did we mention less watering?
You can choose to use a variety of potted plants to cover that empty ground space. Keep your eye out for fun colors and patterns to add extra personality to your outdoor space.
Plant Native Trees
When it comes to planting trees and/or shrubs, it's important to consider the overall landscape of your property and decide if you want to go the DIY route or hire a profession to do your tree planting. Financially, it makes more sense to spend your money on perennials seeing as they return to flower every year and don't require much additional time or money from the homeowner (great for those of you who hate yard work). A good shade tree will also go a long way and dramatically impact your landscape and home. A study done by The American Power Association estimated that effective tree landscaping has the potential to reduce your home's air conditioning bill by up to 50% and can even reduce the need to heat your home in the winter by nearly 20%-50%.
Creatively Design Your Outdoor Space
The great thing about outdoor spaces is that they can practically be transformed into anything you desire. Adding unique touches throughout your landscape can make it appear as though a professional designer revolutionized your entire space. By adding a small garden, ornamental grasses such as blue oat grass or zoysia, or unique lighting to showcase certain aspects of your landscape can add immense value to your landscaping investment. These types of enhancements are far less expensive than you might imagine, they pay off in the long-run, and are also easy to maintain!
A Lawn is Worth Investing In
A beautifully landscaped lawn will showcase your property as desirable as it truly is while also giving it easy to maintain curb appeal, but if you're still unsure which type of investment you want to make in your landscape this year, we assure you there is no wrong answer here. We understand how valuable your time is. There are a number of easy and affordable ways to beautify your landscape and add value to your home with any of these simple and affordable ideas without breaking the bank.