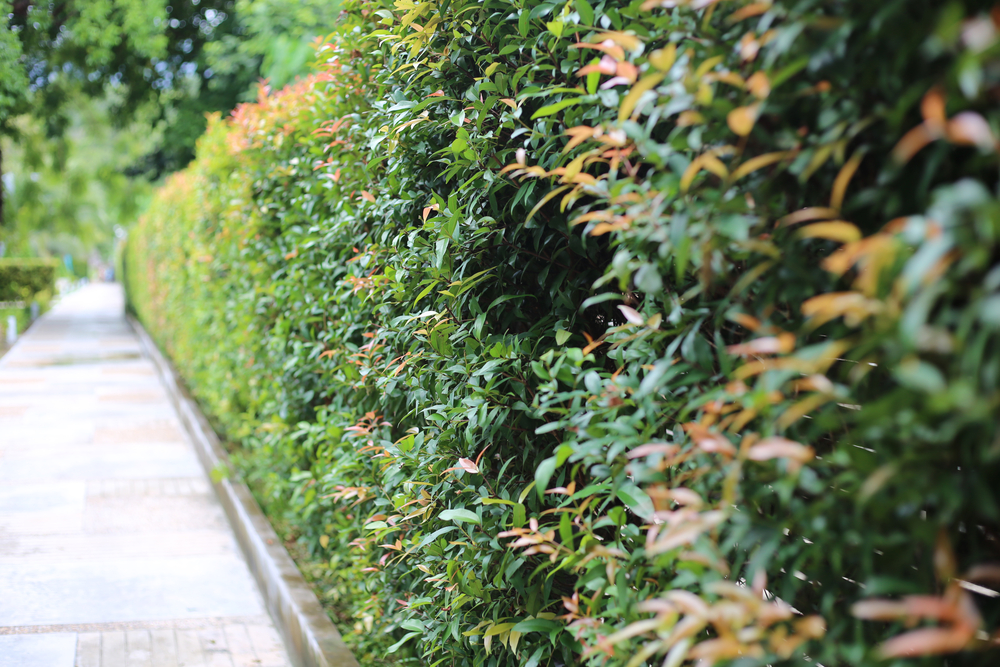 Picture a lovely English garden. The English have always excelled at designing impeccable outdoor spaces that are rich in color, texture, and charm. One particular English landscaping trait of note is the use of shrubbery to create a living fence, in lieu of a standard wooden, metal, or vinyl fence. From the inspiration of those beautiful English gardens, let's bring the trend stateside, shall we?
The Aesthetic Benefits of a Living Fence
The smart use of shrubbery as privacy walls or fences can turn an ordinary yard into an architectural masterpiece. By acting as a barrier to a busy street or nosey neighbor, these tall shrubs offer a beautiful element to the overall outdoor visual. Get creative by planting two non-flowering hedges with a flowering species in the center. Or incorporate some latticework into basic non-descript shrubbery to add a colorful layer of flowering vine to rest up against it. Shape the living screens into dramatic columns or shapes for extra visual interest. Or go with a looser, more casual look by selecting a row of flowering bushes like gardenias or camellias for both visual appeal and fragrance.
Combining the Traditional Fence with a Living Fence
The English are also skilled at mixing the hardscape with softscape, creating a visually interesting blending that is both functional and beautiful. Consider incorporating a delightful cottage-style gate into a hedge for a stylish solution for privacy. Another idea is to actually install a chain link fence, which is then covered with thick growing vines of assorted varieties for a powerful impact of color and texture. A privacy wall can be constructed first, and then covered with ivy that will entirely cover the wall itself in time. If you have dogs who tend to run off this might be one of the best options for you, dog centric landscape design is huge right now!
Best Shrubs for Partial to Full Light
For living fences that will be exposed to partial or full sunlight, here are some shrubs to consider:
This is a compact evergreen shrub that can grow to 6-8 feet. It has lush bright green foliage with white flowers in the spring.
This species grows dense foliage to about 5 feet in height, and grows in a cone-like shape.
This thick foliage evergreen species can be trimmed to be low and wide or tall and narrow.
Best Shrubs for Low Light
For living fences that will be in partial or full shade, here are some shrubs to consider:
This shade-loving shrub grows to be 3-6 feet tall and produces pretty flowers in purple, pink or lavender that attract hummingbirds and butterflies.
This deciduous, drought-resistant shrub features green foliage edged in creamy white, and grows to 6-8 feet in height. It can also produce black ornamental berries.
This shrub thrives in shade and grows to be 6 feet tall.
For your landscape privacy needs, think outside the box and embrace the use of thick greenery, flowering or not, to create beautiful and interesting privacy walls. Don't hesitate to alternate two different species that are visually complimentary, or to incorporate some hardscape among the shrubbery. The living fence offers a dramatic option to boring ole fencing, so get planting!