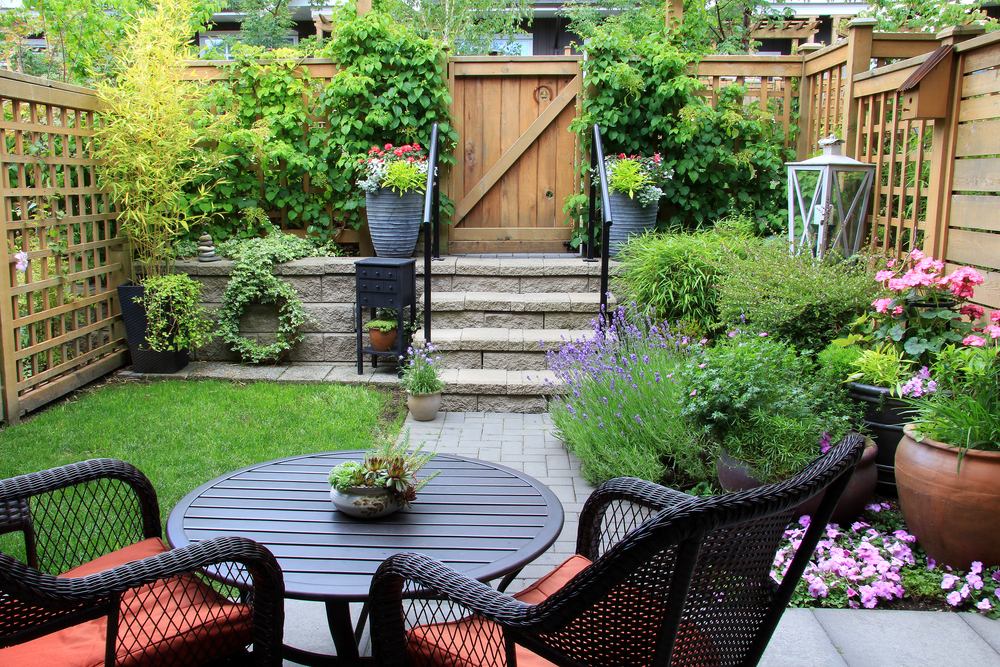 Depending on where you live, having any kind of outdoor space can be a blessing in and of itself.  Just because you might have had to compromise on backyard space, doesn't mean you can't build your own oasis with the right landscaping. Less is more takes on new meaning with these creative ideas for a small backyard. Having a well designed backyard is a great way to increase your home's resale value, create a calm get away for you and your loved ones, or get started that new sustainable garden this spring.
1. Break up Your Space like a Boss
Don't be afraid to divide your space up just because you have less space to work with. If you design smaller distinct areas, then the overall effect will maximize the intimacy making your small backyard look and feel larger. A comfy reading nook here and a cozy dining corner there, style and function come together in how you choose to utilize your space. Your small backyard disappears and in its place an inviting mecca of relaxation and harmony with nature appears.
2. Play with Colors and Textures
Don't be afraid to go bold and bright with colors in your small backyard. Use the opportunity to catch the eye with just the right pop of color and size won't matter much anymore. Whether it's cushions, colorful outdoor furniture, or flowers in bloom, be bold! Playing with symmetry is a good idea too. Creating lines and structure can trick the eye into believing your small backyard is more spacious than it actually is.
3. Pathways Will Lead to a Larger Looking Backyard
Put in small pathways to give a smaller back yard a certain flow. The flow of energy and sense of movement will actually change the depth of the space. Nobody wants to feel cramped or trapped in a yard, so provide clear pathways so the mental and emotional escape can begin the minute someone steps into your garden.
4. Out of Sight, Out of Mind
When you're landscaping small backyards, you have to be highly resourceful. What better way to save space than to use a Murphy bar or Murphy picnic table? You can pull them down when you need, and fold them back up against the wall when you're done. This industrious upgrade will allow you to entertain multiple guests and not have to worry about bulky patio furniture cluttering up your back yard.
5. Optical Illusion Anyone?
You can become a magician of sorts when designing your yard. Not enough magic to triple the size you're working with or anything, but just enough to trick the naked eye. Using reflective glass on pathway stones, fountains and garden ornaments can add a really cool effect and draw the eye to different focal points around a smaller backyard making it appear larger. If you do choose to go with this design trick, do not over do it you can easily clutter up your space. Choose two or three spots in your yard to add a couple items of interest and create a more dynamic space.
6. Vertical Design
When you're working with limited space, it's best to get things off the ground and draw the eye upwards. Whether it's via tiered or stacked planters, you'll be glad you've maximized your ground space so you can place furniture or other functional pieces in their place. You can build your own trellis if you want, and try your hand at vertical landscaping. Having more vertical elements in your smaller backyard will make your yard feel more spacious!
If you happen to have a small backyard then you're not alone. Luckily there are many ways to utilize your space to make it feel spacious and welcoming.