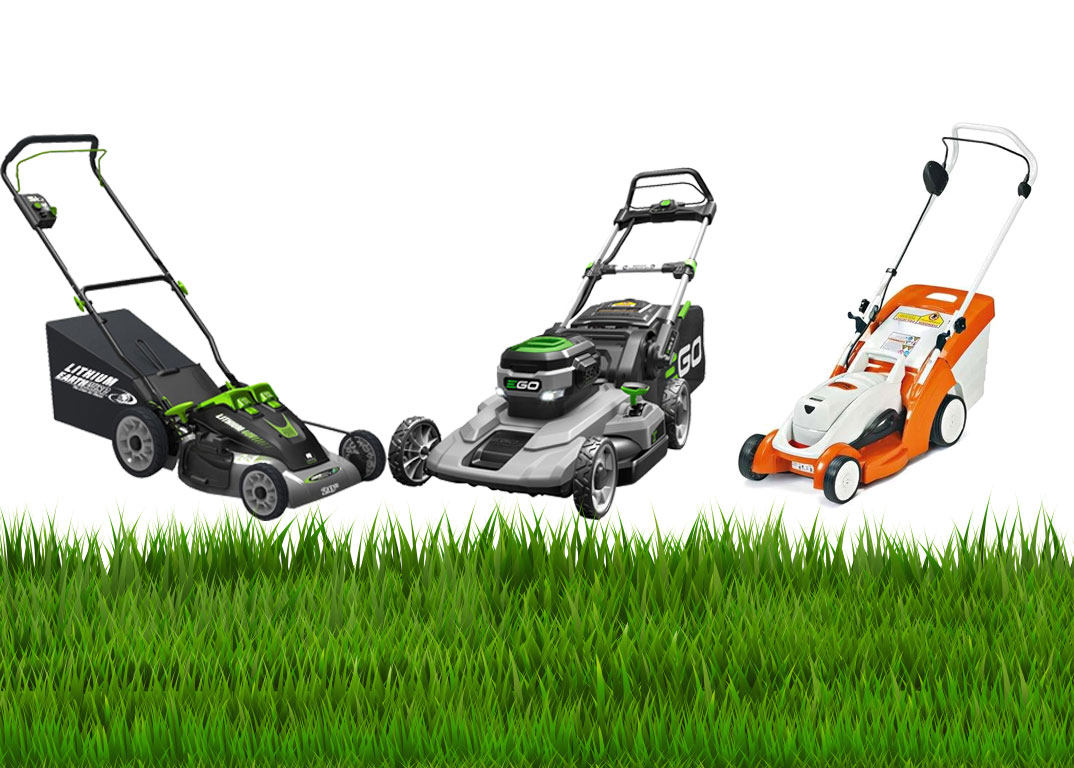 Why An Electric Mower Is Right For You
Trying to find the best lawn mower for your needs can be an extremely difficult task. Especially when you also want a lawnmower that is environmentally friendly. While electric mowers may be expensive and somewhat limited by their battery runtime, they have quickly become one of the most viable options for most homeowners and we expect that number to continue to rise in the coming years.
So, which one is best for you? We took a look at the top three consumer-rated electric mowers on the market to help you figure out which one is best for you.
STIHL RMA 370 14-Inch Lithium-Ion Lawn Mower
Coming in first, we have the RMA 370. While it quite possibly could redefine versatility as we know it in the mowing industry, the RMA 370 is also taking major strides in the convenience category, as well. Featuring a 36-volt lithium-ion battery, the RMA 370 allows you to power multiple tools in the STIHL battery-powered equipment family with one easily interchangeable battery. As is the case with all electric mowers, you will enjoy no fumes and much less of a mess thanks to not needing to buy or store gas anymore. Ready to mow? With the RMA 370, all you have to do is push a button, pull a switch, and start mowing. Ready to stop? Simply let go and the mower's motor and blades stop. No more cords, no more headaches. The RMA 370 is lightweight and easy to maneuver, making it the easy choice for any smaller yards or noise-restricted neighborhoods.
EGO Power+ 20-Inch 56-Volt Lithium-Ion Lawn Mower
The EGO Power+ practically rivals any top-rated gas push mower in regards to cutting performance. One of the most advanced rechargeable mowers on the market, the EGO Power+ features a weather-resistant construction and offers a 45-minute cut time with only a 30-minute charge. Another plus side? The EGO Power+ makes 30% less noise than any gas powered mower. The biggest difference here is that the EGO Power+ starts instantly, whereas most gas mowers can give you a shoulder workout just to get started. Another advantage the EGO Power+ has is that it also features a foldable/collapsible design that makes cleaning and storing the mower much easier and it can even be stored vertically no matter how cramped you think your garage is. The EGO Power+ is perfect for all small and medium sized lawns!
Earthwise 60420 20-Inch 40-Volt Lithium-Ion Lawn Mower
Last, but certainly not least, for anyone who is always looking for the one thing that can do many things, the Earthwise 60420 is the mower you need in your life. Alongside its 3-in-1 functionality, the Earthwise 60420 also features a side discharge, mulch, and rear bag options. If you happen to live in a state with a consistent change in season, the Earthwise 60420 makes adjusting the cutting height easy with a single lever offering seven different positions and lengths from 1.5 inches to 4 inches. Made of a durable steel deck, its 7-inch front 9.5 inch rear wheels give you all the precision and balance you could possibly need to maneuver and perfectly cut your lawn. With a comfortable ergonomic handle and cushioned grip, the Earthwise 60420 is great for a medium or large size lawn but can also handle even bigger duties if called upon.
Which Electric Mower Should I Choose?
As you can see, each of the above electric mowers features somewhat of the same core principles, but each has a distinctive feature making it ideal for every type of environment. Have a smaller yard that can be cut in 30 minutes or less? The RMA 370 is far and away the mower for you, while the EGO Power+ is best suited for medium sized yards and offers quite the versatility for a mower of its size. Think you might prefer a mower that is practically limitless in what it can do? Well, with the Earthwise 60420 you simply cannot go wrong. Choose wisely and happy mowing!