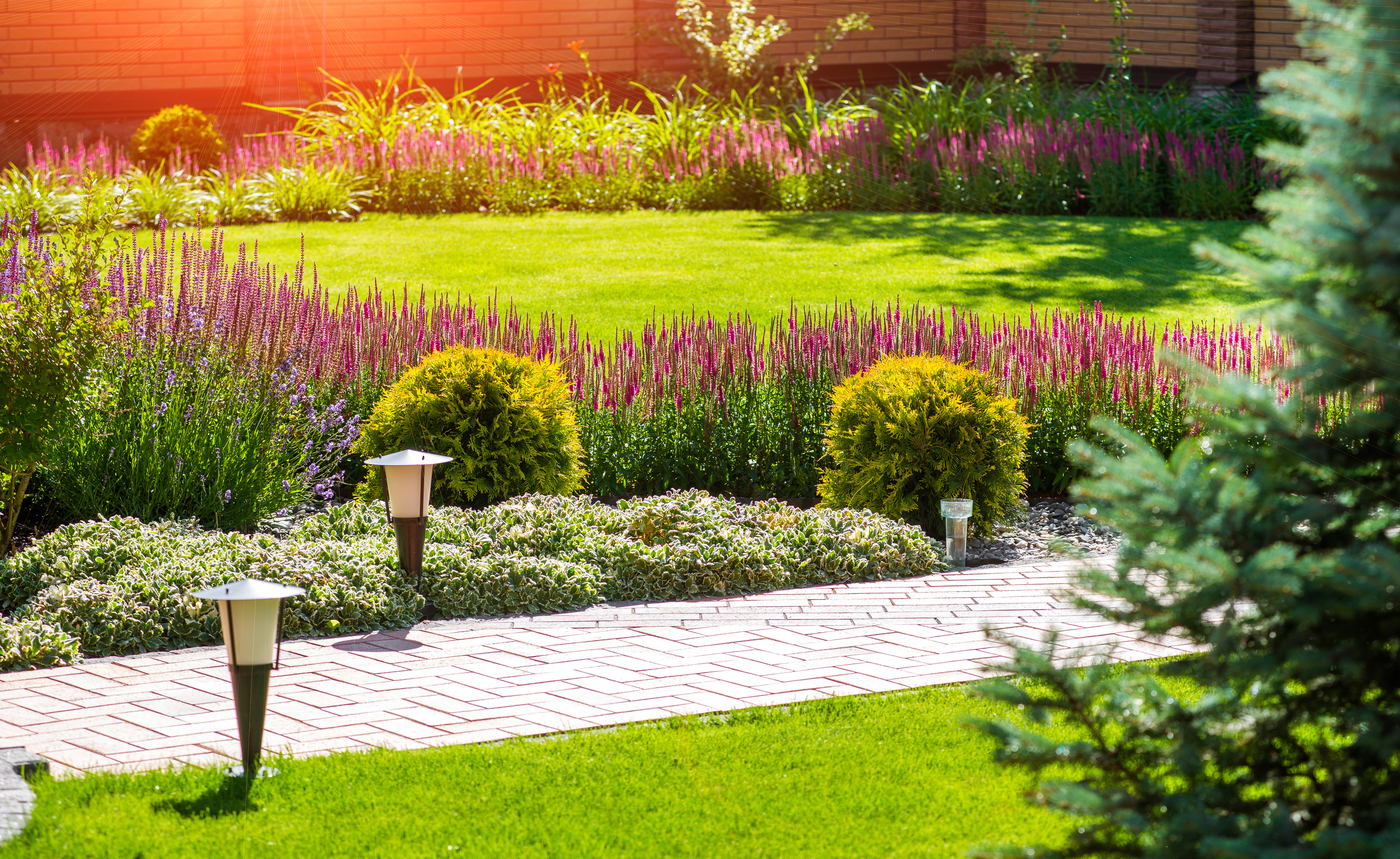 Is there anything more beautiful than a well thought out and gorgeously executed garden design? From hedge mazes to fairy rings to outdoor living rooms, there's just something magical about unique and fun outdoor spaces. We're not going to tell you to build turn your backyard into a hedge maze, but we do have some scaled-down ideas to make any homeowner's garden even more awesome!
Landscaping Design Ideas for Your Home!
1. Walkways
There are many ways to make a walkway: you can use patio tiles, gravel, sand, or any surface you would want to walk on. Line the walkway with hedges, fast-growing trees, decorative fences, flowers—or keep it simple. If you want a minimalistic walkway without any lining, it is best to use a substantial material like bricks or tiles to prevent your walkway from being displaced. Materials like gravel or sand can be used if you decide to line your walkway with plants or fences. If your yard is overflowing with gorgeous flowers and you don't have a walkway incorporated yet, consider adding one so guests won't have to worry about where to walk when they're viewing your blooms.
2. Archways
Know what goes really well with a walkway? An archway! Whether you use a preformed wire trellis arch or make your own out of reclaimed wood and garden twine, nothing looks as elegant and organic as an archway covered in vines that burst with flowers or berries! Ivy is a classic option for this purpose, roses are easy to coax up a structure, and you can also use prickly berry plants like raspberries or blackberries—be mindful of the thorns, but the occasional scrape is worth it: the overall effect is spectacular.
3. Ground Cover
Along the edges of your garden, consider using perennials as a border. Another pop of color in well-coordinated tones can really add something to any garden. Good plants to use for this include delphinium, roses, lavender, and low-growing shrubs. Learn more about what plants grow well in your area by finding out your plant hardiness zone.
4. Water Features
When it comes to water features, there aren't a lot of simple options. A birdbath can be installed relatively easily but it won't be functional unless you attach hosing—if you only want the aesthetic without the functionality, consider filling your birdbath with small pebbles or glass for added interest and make sure to avoid letting it fill with standing water to prevent unwanted parasites, such as mosquitos, from making a home there.
Other options for water features get a little more complicated: you can buy pre-assembled fountains and waterfalls can—no need to DIY—but be sure to consider the necessary plumbing fixtures and how those will affect your garden. Finally, everyone's favorite water feature, the garden pond. Whether it is filled with fish, plants, or both, this is an elegant yet whimsical focal point. However, it isn't recommended for areas with freezing temperatures unless you're willing to invest in the necessary heating equipment to keep your biome alive.
5. Outdoor Entertainment Area
What's the point of doing all this home improvement if you don't have a beautiful place to sit and enjoy it with friends and family? You can do anything from putting out a few classy outdoor lounge chairs to building a glass-walled gazebo in the center of your newly designed garden space, as long as it fits your aesthetic, it's fair game!
Whatever your landscaping needs, Landscaper List can bring your garden design ideas from your imagination to reality!